The shingles may be the most visible part of your roof system, but they're only the surface layer. Just underneath them are other important components working together to ensure your roof can continue delivering reliable weather performance. Under today's spotlight is the underlayment, which directly contributes to the longevity and stability of your asphalt shingle roof system. Here's what it does: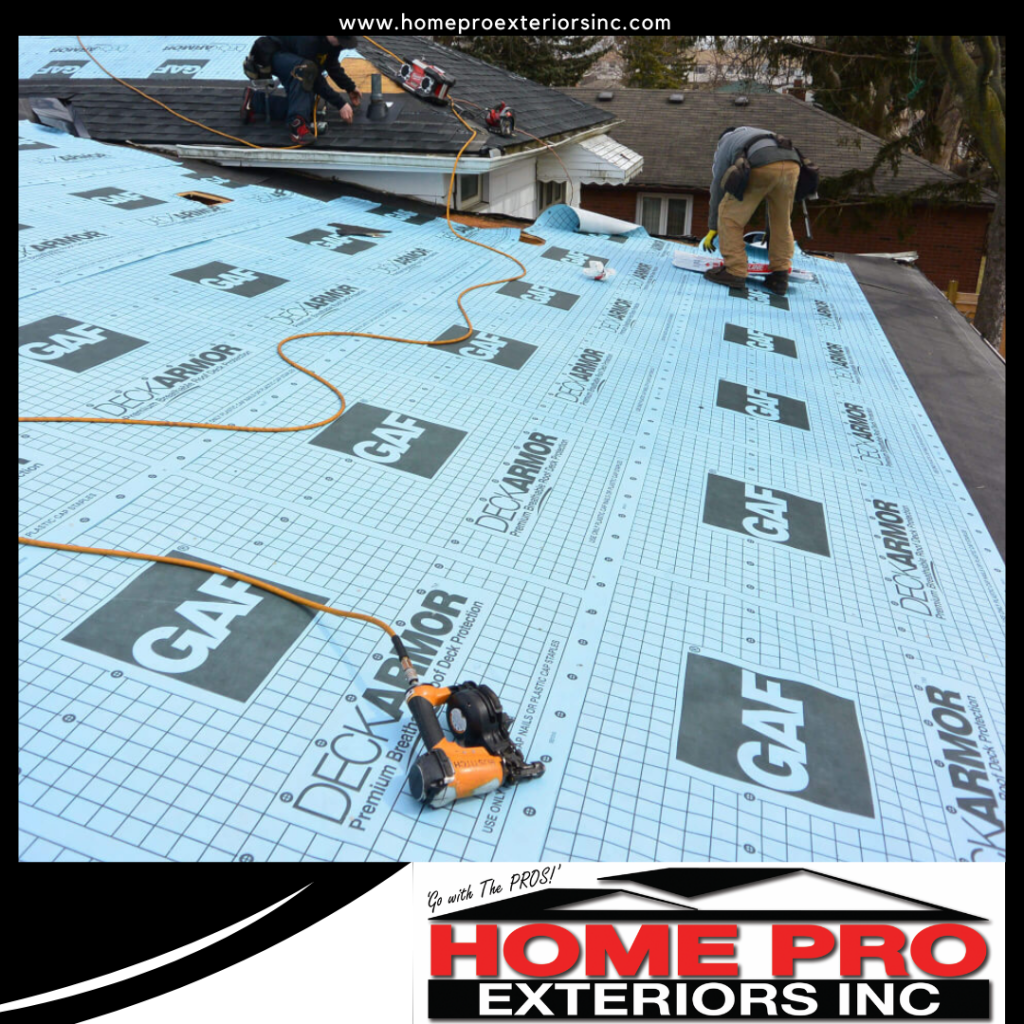 Prevents Roof Leaks
The underlayment is a thin waterproof material installed just between the shingles and the decking and above the ice & water shield protection. If water or moisture somehow runs past the shingles, the underlayment serves as a barrier that stops it from seeping through the roof system. It helps eliminate – or at least reduce – the potential for leaks, helping keep your home safe and dry against possible water damage. Underpayments are also breathable and tend to be lighter colors (white or light blue) so they don't increase heat draw through the roof deck.
Prolongs Your Roof's Life
Water intrusion can be a huge problem in your roof system. If the decking and trusses, which make up the roof structure, are constantly exposed to water, it's only a matter of time before mold and rot develop on them. When overlooked, mold and rot will gradually weaken the roof structure, causing the entire system to sag. But this won't be an issue if the roof has an underlayment in place. It stops mold and rot from growing on the roof structure by preventing water intrusion from occurring in the first place.
Picking a Good Roof Underlayment
The underlayment is available in different types. If you're having a new roof installed this season, you may consult a trusted roofing professional like Home Pro Exteriors, Inc. to help you choose the right underlayment for it. Your available options may include:
Asphalt-saturated, also known as 'roof felt' used to be the go-to option for roof underlayment before synthetic ones were developed. It is still seen on occasion because it is relatively cheap but we do not use it because synthetic is the superior option. Roof felt tends to tear easily and is less breathable than synthetic options.
Non-bitumen synthetic, which is considered a direct upgrade from the previous option mentioned. This particular underlayment offers greater water resistance, more breath ability and all around tougher performance. Roofers are most likely to recommend this type for a new roof system. Some prime examples of synthetic underlayment include GAF® Deck-Armor™ and GAF Tiger Paw™. As a GAF Certified Master Elite® roofing contractor, Home Pro Exteriors, Inc. can tell you more about these premium options.
It's important to note that most of the advancements that benefit current roof replacements did not exist or weren't required by code 25 plus years ago so older homes often lack adequate protection against ice dams.
Give Us a Call Today
Let Home Pro Exteriors, Inc. help you keep a sturdier, leak-free home with our exceptional roofing solutions. We proudly serve homeowners in Warwick, NY, and other areas in Orange County. Get started on your roof upgrade by calling us at (845) 343-1777 or filling out this convenient online form. We look forward to working with you!