Discerning homeowners seeking the expertise of home improvement contractors online no longer settle for anything less. They check for awards, certifications and client reviews to make sure a certain roofer or siding installer is qualified and trustworthy. For this, they look at the contractors' Better Business Bureau (BBB) accreditation.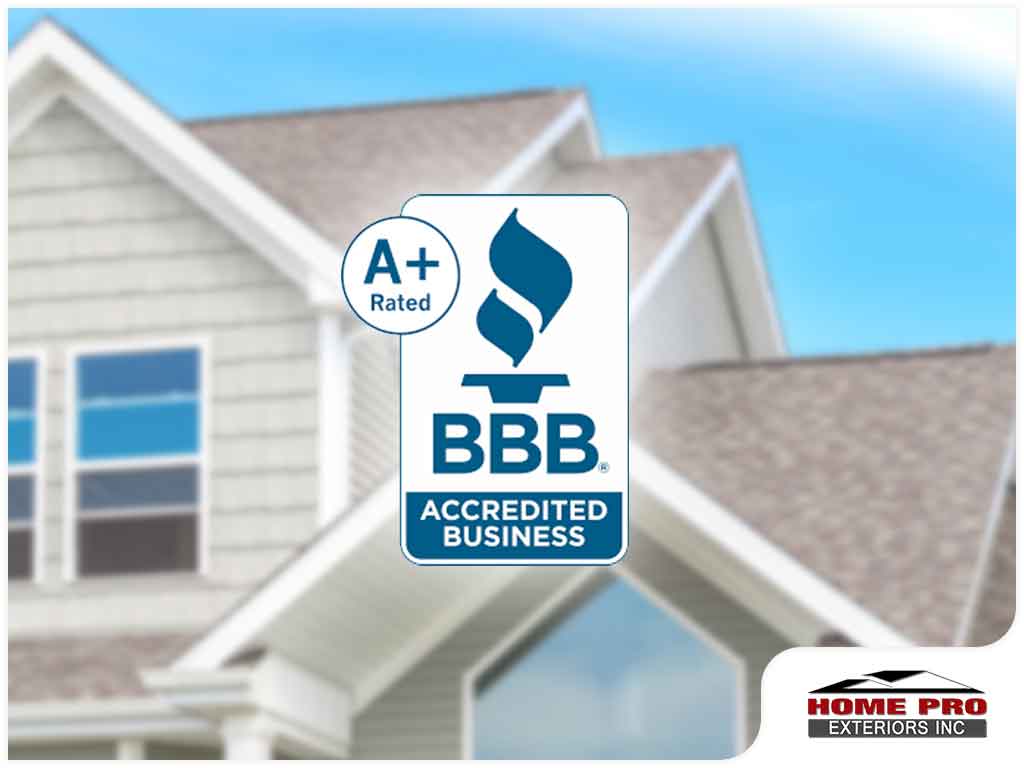 As the top roofing and siding contractor in the area, Home Pro Exteriors, Inc. is proud to be accredited by BBB. We're also proud to say that we consistently maintain an A-plus rating with them. Today, we explain what this distinction means for you.
Proven Business Reputation
Adherence to BBB's stringent requirements is crucial for businesses wanting to get accredited by the BBB. Home improvement contractors must secure the necessary licenses and bonds, have been in business for at least six months, and have resolved customer complaints.
With over three generations of experience, our company offers our valued customers the knowledge and talent that only come after years in the industry. We have earned the A%20 rating from the BBB through our elite workmanship, high standards for roof repair and replacement services and an ability to meet and exceed our customers' needs.
Efficient, Honest and Stress-Free Services
One of the important criteria that businesses need to meet to be awarded BBB's A-plus rating is to show transparency when it comes to business practices. This means being upfront with its products, services, and ownership, using a complete address where people can go and visit. Regardless of the size of your project, we'll be with you every step of the way, showing you every detail of the process to help you make the right decision.
Commitment to Client Satisfaction
For the BBB to bestow the A%20 rating, a business must consistently treat its customers with honesty and fairness. Combined with clear communication, we maintain lasting relationships with our clients. Whenever there's a misunderstanding, we make sure to address any problems quickly and professionally. When you work with us, you spare yourself the trouble of dealing with poor workmanship and low-quality products.
Our excellent rating from BBB is just one of the many distinctions we carry. We're also a GAF Master Elite® roofing contractor and the only CertainTeed 5-Star roofing company in the region. We provide a complete range of roofing services, including roof replacement, roof repair, roof maintenance and more.
Call us today at (845) 343-1777 or fill out our contact form for a free professional consultation. We serve residents of Monroe, NY, and the surrounding communities.