New Windows Mean a Better View for You
At Home Pro Exteriors, Inc., we believe windows should be more than just atheistically pleasing; they should be practical as well. Our windows are energy-efficient, easy to clean and expertly constructed to withstand everyday wear and tear. We provide all of our homeowners with precision window installation to ensure your home is a comfortable place for you.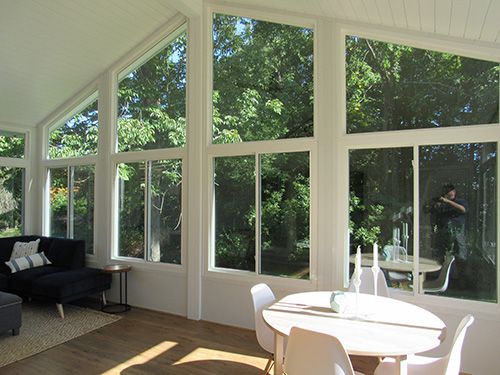 Our Window Manufacturers
Home Pro Exteriors, Inc. is proud to be partnered with the industry's leading window manufacturers. When you're in need of replacement windows, you can rest assured that our products are of the highest-quality.
ProVia® Windows
Endure™ Window Series
ProVia® has a reputation within the window industry for developing attractive, energy-efficient, high-performance vinyl windows. The Endure™ Window Series has been independently tested to meet strict energy efficiency standards and is ENERGY STAR® certified. For the Endure vinyl window line, ProVia has chosen the optimum levels of technology to make a window that will work continually at peak performance. These vinyl windows offer maximum energy efficiency, while displaying stunning beauty.
Aspect Window Series
Aspect custom vinyl windows provide the assurance of lower energy costs and better home comfort all year round. With similar construction as ProVia's top-of-the-line all-vinyl window, Endure,
Aspect offers:
Durable and energy-efficient construction.
Innovative, multi-chambered frame and sash design.
Triple weather-stripping and ComforTech™ Warm Edge Glazing, a high-tech glass package that measurably improves thermal performance for less heat loss, warmer glass temperatures and reduced interior condensation.
ecoLite Series
The ecoLite white vinyl windows exceed the performance of other economy windows with durable and energy-efficient construction. They have been independently tested and certified against the most stringent requirements for air and water infiltration, wind load resistance, ease of operation, forced entry and much more. ecoLite windows come with a Lifetime Limited Warranty on materials and workmanship, which includes a 20-year warranty on glass seal failure.
Aeries Window Series
If you're looking for the best wood and vinyl window replacement, look no further than ProVia's Aeris Window Series. You will appreciate the carefree nature of the Aeris window design. This line offers designer styling and a full range of popular options, including casement, double-hung, awning, bay, bow, sliding and picture windows. ProVia's Aeris Window Series is unsurpassed in its innovative design, beauty and elegance.
Call Us Today!
Home Pro Exteriors, Inc., offers the very best in replacement windows to maximize energy efficiency and increase the aesthetic appeal of your home. Our window technicians provide expert installation. Call (845) 343-1777 or submit our online form to receive your free, in-home consultation.