Precision Door Installation Services
Home Pro Exteriors, Inc. supplies and installs top-quality doors for maximum protection and efficiency in your home. We carry ProVia® door product lines in fiberglass and steel — both of which are extremely resilient and won't warp, rot or crack when exposed to the varying weather conditions here in the Northeast. They are also backed by a Lifetime Limited Transferable Warranty. Our remodeling contractors have years of experience in precision door installation and prioritize customer satisfaction with every project.
Entry Doors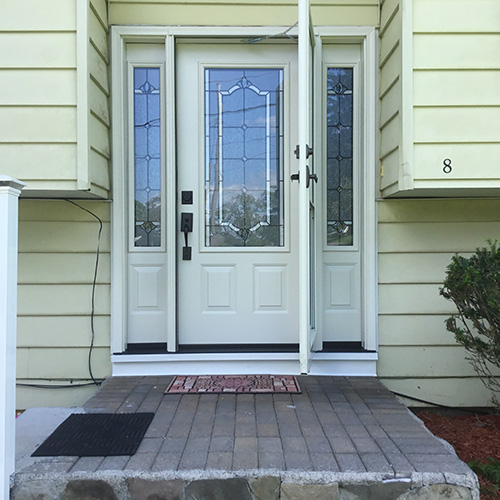 Our high-quality entry doors, designed by ProVia, can be custom-made to fit any homeowner's unique sense of style. We will help you pick from a variety of features, including glass, transoms, sidelights, grilles and hardware.
In addition to being durable and fashionable, ProVia doors are remarkably energy-efficient, with several styles meeting ENERGY STAR® standards. Some of the many different features that prevent heat transfer include:
Polyurethane cores for outstanding insulation.
ComfortTech ™ warm edge glazing that improves thermal effectiveness.
Heat-resistant window trim, to keep a tight seal on all of the window glass.
Q-Lon weather-stripping which prevents moisture, air and dirt infiltration.
Storm Doors
Home Pro Exteriors, Inc. is also experienced in storm door installation. The function of a storm door is to block drafts in the winter to minimize energy loss, and to protect the entry door. Many styles we supply have clip-in tempered glass panels, which can be removed and replaced with an insect screen panel for summer. During harsh winter weather, storm doors will stop cold air from entering through the main door.
Patio Doors
Home Pro Exteriors, Inc. supplies and installs ProVia patio doors designed for convenience, ease and beauty. The ProVia Aeris® series offers a range of sliding glass doors that feature a maintenance-free, weatherproof vinyl exterior along with a real wood interior that can be painted or stained to suit your home's decor. All of our ProVia sliding patio doors are expertly manufactured to deliver exceptional energy efficiency.
Schedule Your Door Replacement Today!
Home Pro Exteriors, Inc. is a Better Business Bureau A+-rated company that goes above and beyond industry standards. When customers hire our expert remodeling contractors, they benefit from our many years of experience installing entry doors, storm doors and screen doors. We can provide examples of our exceptional work as well as references from many satisfied customers in the area. Call (845) 343-1777 or submit our online form to schedule your appointment today!