Go With the Pros! We Offer Seamless Gutter Installation
As a GAF Master Elite® Certified roofing company, Home Pro Exteriors, Inc., is expertly trained to repair and restore all parts of a roofing system – including your gutters and downspouts. Gutters are an integral part of your roof structure and should be maintained properly. We provide seamless gutter installation and repair services so you can have peace of mind that your system is working properly.
Benefits of Proper Gutter Installation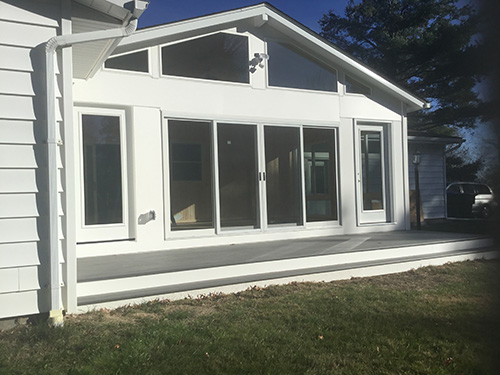 During the spring and summer, gutters channel heavy rainfall through your downspouts and away from your home – instead of down the siding and around the foundation where it can lead to water damage and water infiltration. In the winter, gutters allow snowmelt to properly drain without dripping off of your roof, causing winter safety hazards.
A gutter replacement is affordable and has several investment benefits, including the protection of your home's foundation. Properly functioning gutters stop water from infiltrating your home and causing extensive damage, such as basement flooding. Additionally, proper gutter installation will protect your landscape from water runoff battering your garden and flooding your lawn.
Home Pro Exteriors, Inc. and our team of skilled roofing contractors are trained to repair, replace and install quality gutter systems. We precision-cut our gutters on-site to fit your roofing system seamlessly. After they're installed, you can schedule routine maintenance checks with us throughout the year to ensure your roofing system is performing to its full potential.
Schedule Your No-Obligation, In-Home Consultation
If your gutters are clogged, sagging, pulling away from the roof's edge or leaking water, call our expert roofing contractors to inspect the issues. We can repair or replace your gutters, depending on their state. Contact us at (845) 343-1777 or via our online form, and we'll provide you with a no-obligation, in-home consultation.