Upgrade Your Outdoor Space
Home Pro Exteriors, Inc. offers many exterior home improvement services that enhance the look and feel of your outdoor space. Your deck should be a relaxing and inviting space to entertain guests or escape in the privacy of your own backyard. Our company has three generations of experience in home renovation projects and deck installation services.
Deck Customization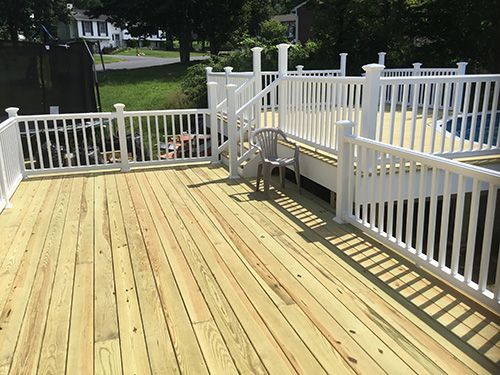 Increase the value, comfort and livability of your home with a custom-built deck from Home Pro Exteriors, Inc. Our professional remodeling contractors specialize in exterior renovation projects including deck construction.
Adding a deck is one of the least expensive ways to add usable square footage to your home. Whether you're looking for a traditional, colonial or contemporary deck design, our expert installers will work with you to create a beautiful deck that matches your home's style and design. Our professional team will you help you with your selection process every step of the way. We offer a variety of colors and styles to blend in seamlessly with the natural elements of your environment. Or, if you prefer, we'll help you pick a bold color that will make a dramatic statement.
Composite Decking Specialists
Whatever your style may be, our partnership with leading deck manufacturers gives Home Pro Exteriors, Inc. access to only the very best products for your outdoor space. We have experience with all composite deck materials, including Trex®. With impressive durability, easy maintenance and lasting beauty, composite decking offers all the beauty of wood without the hassles.
Call for Your Free Professional Consultation
Let Home Pro Exteriors, Inc. help you achieve the dream outdoor experience you envision. Our remodeling contractors are highly trained and equipped to perform premium deck repair and deck construction services. Call (845) 343-1777 to learn more about our services. Or, fill out our online form to schedule an appointment and we'll provide you with a free professional consultation.