Fall is a great season filled with changing leaves, bonfires and festive holidays. Sometimes, however, homes look bare and uninviting in the wintery weather. Don't let the cold weather blues dull your home and make it look drab. Create the perfect curb appeal for fall.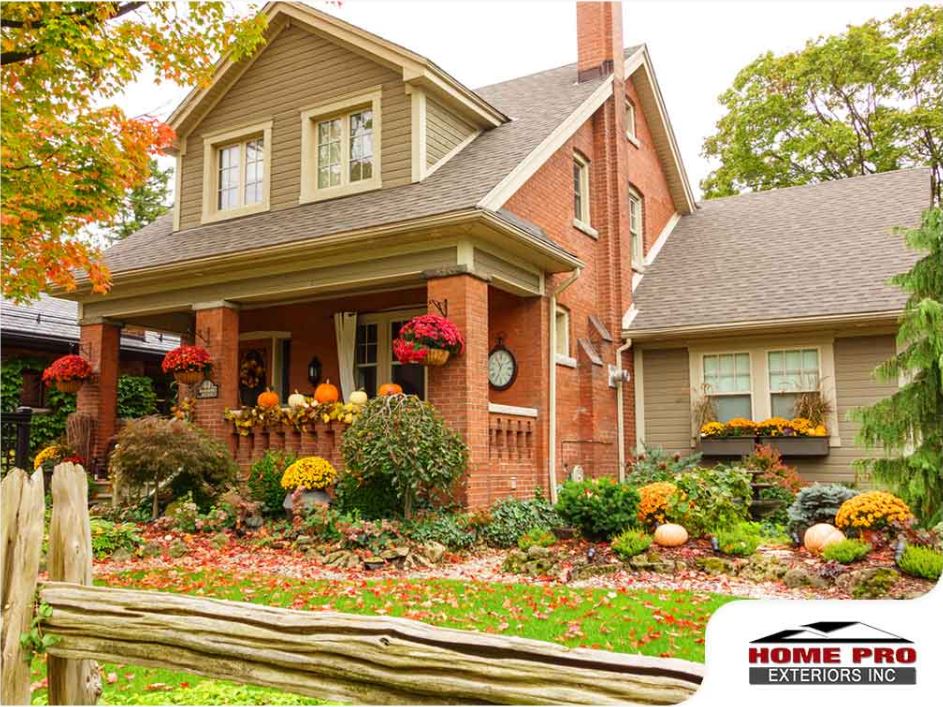 Here are some tips from your roof replacement company, Home Pro Exteriors, Inc.
Plant Seasonal Blooms
Fill your flower beds with warm shades of red, orange and yellow. It is a great way to add color when other plants are losing their leaves for the season. Mums, which come in a variety of vibrant autumn tones, are easy to care for and are resilient to the weather. Evergreen, holly and cedar trees stay green all year long. They make great options for shrubs.
A Dressed-Up Front Door
Unusual door decorations add visual interest to your home. A wreath is a great decoration in any home. Baskets filled with fall items, or festive signs are perfect door décor. Decorate with symmetry on either side of the door to add curb appeal and make your home seem more inviting. Take things further by painting your front door a vibrant color to make your porch pop. Let Home Pro Exteriors, Inc., roof repair company, help you achieve your dream exteriors.
Welcome Mats
Welcome mats can spruce up your front porch in an easy and inexpensive way. Whether they show the classic "Welcome" or any fun saying, they are definitely a quick curb appeal fix. They're functional, decorative, easy to swap out and will add color and personality to your front door.
When it comes to home renovations, Home Pro Exteriors, Inc. is more than just a siding contractor and exterior design company. We do everything to spruce up the look of your home for fall and all year round. We serve homeowners in Monroe, NY. Call us at (845) 343-1777 or fill out our contact form for a free professional consultation.