At Home Pro Exteriors, we handle more than just roof repair and replacement. As a full-service roofing company, we help homeowners solve common issues that plague their home and make sure their property is as comfortable, attractive, and energy-efficient as possible.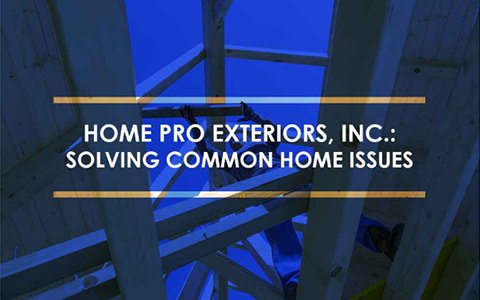 In this post, you'll learn how we do this through the services we provide.
Timely Roof Replacement
An old and worn-down roof will negatively impact your home in two ways: First, it weakens your property's weather resistance. Second, it negatively affects the established comfort levels and energy efficiency of your home. It also makes your home more susceptible to leaks, which can create damp areas in your home where mold can proliferate.
The simplest way to prevent this is to do timley roof replacement. As a general rule, you should replace your roof once it reaches its 20th year as the shingles and even the underlayment reach their maximum life span. Any further and all the repair work it will require will cost as much as a full-blown replacement.
Install New Siding
Although exterior wall paint is good at protecting your exterior walls from weather, it's a short-term solution to long-term weather exposure. The best way to protect your home's exterior walls from the weather is by to install new siding.
As your local siding contractor, we offer both vinyl and fiber cement siding. The former is a good choice if what you want is more insulation in your home. As for fiber cement siding, it doubles as a weather barrier for your home – protecting it from strong winds and improves your property's resilience to storms. We offer high quality siding from Alside®, Prodigy®, and James Hardie® to name a few.
Glass and Screen Repair
Even something as "little" as broken glass and torn screens can negatively affect your home's comfort levels and energy efficiency. With this in mind, we are happy to provide glass and screen repair for homeowners. All of our repairs are done onsite or in our shop, so you get your repairs done faster.
Home Pro Exteriors, Inc. is ready to solve your home's comfort, curb appeal, and energy efficiency issues. Call us today at (845) 343-1777 to learn more about our services. We are a roofing and siding contractor serving homeowners throughout Monroe, NY.